Eustaqui SEGRELLES



Albaida (Valencia) 1936
He studied in the School of Fine Arts of San Carlos, Valencia and at the Painting Academy of Vicente Barreira, Valencia. (1950-1954).
He worked as a sketcher for the Editorials: Maga, Bardon Press, Selecciones Ilustradas and Bruguera. (1955–1972).
Exhibits in SPAIN: Onteniente, Valencia, Bilbao, Madrid, Zaragoza, Platja d'Aro, Castellón, Barcelona. FRANCE: Paris. PORTUGAL : Lisbon, Porto. DENMARK: Copenhague. MEXICO : Santa Fé, Taos. U.S.A.: Rhode Island, Miami, Oklahoma, New York. AUSTRALIA :Sidney. JAPAN: Tokyo. JORDAN: Amman.
Prizes : The City Council of Valencia. The Fair of Algeciras. The County Council of Barcelona. The Karman (Sevilla), The Town of Prego........
Obteined awards to paint in: El Aaiún (Sahara), Casa de Velázquez (Madrid).
Obteined awards to exhibit in New York and Copenhague.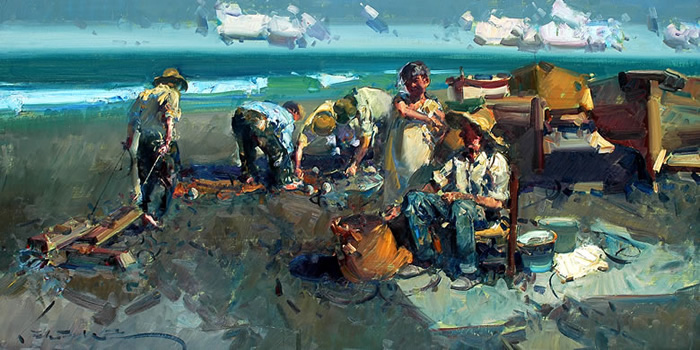 Ref. 044-007

"PLAYA DE VALENCIA"


Oil on canvas
40 x 80 cm.
Free shipping : Enjoy our free shipping to Europe.
Delivery times : Delivery within 3 weeks. Please contact the gallery in case you require urgent shipping
Authenticity Guarantee : Every artwork is shipped with a certificate of authenticity.
Secure payment : Code SSL all sensitive data traffic are coded to avoid anyone reading them. Enjoy buying safely with encrypted and secure payments. All your transactions whit us are secure.

Insured Shipments : Every order is professionally packed and crated to the highest standards and is shipped fully insured.